We often hear and say ourselves that nature hides a cure for everything, and one of the plants whose healing power has been proven by many throughout its long history must be comfrey. This eye-pleasing perennial plant with the Latin name Symphytum officinale has a very long and colorful history of use, so it was known and appreciated even in the Middle Ages for treating joints and healing wounds and for all bone diseases.
If you wonder where you can find it, look for it in wet places, most often along the banks of streams, rivers, along the edges of forests or in wet meadows. It can also be found in the garden or along fences – this natural wonder with a characteristic appearance with succulent and hairy stems and purple and pink flowers hanging down really grows everywhere.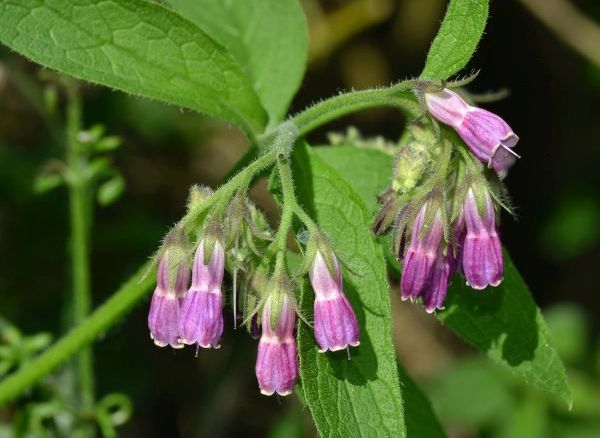 What makes this plant so effective?
Medicinal anti-inflammatory and analgesic effects of comfrey have been confirmed by a series of clinical studies. Comfrey leaves contain carotene, alkaloids, potassium and vitamin C. The root contains tannins, mucilage, starch, allantoin, inulin, choline, triterpenes and alkaloids. It also contains tannins, glycosides, resin, essential oil and asparagine.
Although comfrey is obviously a combination of many powerful ingredients, at the top of the healing scale is certainly allantoin, the main active substance with a strong ability to stimulate the growth of cells in bones, connective and subcutaneous tissue. The active action of allantoin occurs only in cooperation with other active substances from comfrey, so auxin is a plant hormone that stimulates allantoin in the creation of new cells and tissues.
All in all, it is because of allantoin that comfrey is one of the best remedies for healing external and internal wounds, swelling, cuts, scratches, bruises, fractures and bleeding. It is also used for sprains, dislocations, strained muscles and tendons.
Comfrey poultices are effective for psoriasis, ulcers, varicose veins, carpal syndrome and bone inflammation.
Comfrey effectively relieves other types of pain and has proven to be excellent in the form of a pain reliever gel for sprained joints and knee osteoarthritis. Likewise, in researches, it significantly alleviated the participants' back pain. It is also known in homeopathy, so homeopathic preparations of comfrey are used in:
dislocations
phantom pains
in wound healing
As for the preparations themselves, comfrey tea, poultices, baths, ointment, tincture and herbal drops are prepared. Preparations from this plant must not be kept in metal containers.
Although there is a herbal tradition and some recipes for teas and tinctures with dried comfrey root or leaves, due to some of the ingredients it contains, research has confirmed certain risks when used internally (especially related to the liver, lungs and even cancer), so today it is safest to use it only for external use. It is especially dangerous for pregnant and lactating women.